America's newspapers, or at least two of the ones that still exist, are full of stories about how Wall Street isn't panicking about the looming crisis of the debt ceiling. We can show you that in just one chart!
The chart was made by HSBC economists and comes to us via the Twitter account of Fabrizio Goria, a reporter with the Italian news website Linkiesta. The chart shows how little the price of insuring against a U.S. debt default has reacted to the fact that the nation is about a week away from not being able to pay all of its bills any more. (Story continues after chart.)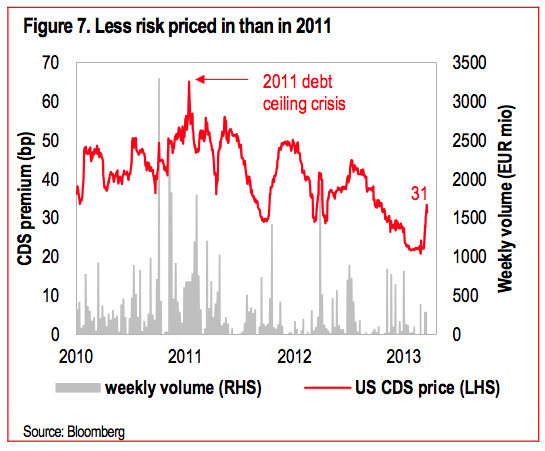 As you can see from the chart, the price of buying insurance against a default has jumped in recent weeks, but it is not nearly as high as it was back in 2011, the last time we came close to breaching the U.S. debt ceiling. It is not even as high as it was last year, when Washington was only fighting about the fiscal cliff and the debt ceiling was not involved.
House Republicans are holding the government's borrowing limit hostage to extract concessions that they can't exactly articulate. The Treasury Department has said that, if they don't raise the debt ceiling by Oct. 17, then the government won't be able to pay all of its bills. This could lead the government to default on its debts, causing an unprecedented global crisis.
Most on Wall Street agree that such a crisis would be worse than the 2008 financial crisis. But the unspeakably terrifying nature of this hypothetical crisis has convinced Wall Street that it will almost certainly never happen, the Wall Street Journal and New York Times point out in separate stories today.
Wall Street's attitude is that certainly our politicians wouldn't be so moronic as to crash the global economy for unidentified concessions about government spending and/or Obamacare! And the more Wall Street doubts that such a crisis is possible, the less it reacts, which means the morons in Congress don't realize the danger, which makes such a crisis even more possible, notes the NYT's Andrew Ross Sorkin (and me and Quartz's Matt Phillips and President Obama, last week).
To be fair to Wall Street, though it says there's a "zero percent" chance of a U.S. default, it's not acting that way. Interest rates on one-month Treasury bills are the highest since August 2011, a sign investors are nervous they won't get paid back on those bills. And stocks have fallen on 11 of the past 14 days, taking the Dow Jones Industrial Average down more than five percent. The Dow was down another 75 points on Tuesday morning. Wall Street is getting there.
Business News on The Huffington Post
{ Comments on this entry are closed }